Bio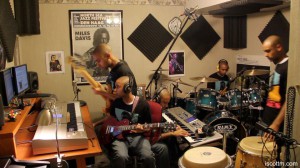 Most people know me as Trent. I was born in Washington, D.C. and grew up in Maryland. I learned to play congas around age 8, mostly influenced by Go-Go music (a percussive syncopated genre originated by Chuck Brown in D.C.). The congas were homemade, and held up by furniture and stacks of books. As that developed, I had the chance to spend time backstage on tour with reggae luminaries, and producer Philip "Fatis" Burrell bought me a real set of LP congas, soon inviting me to perform with them, although I couldn't ditch enough 5th grade classes to pursue that much further.
As I continued playing with local bands, I was persuaded to get a piano which opened another vast creative dimension as I went on self-taught. While pursuing a BFA in studio art at University of Maryland, College Park, I put together a sound studio, picked up more instruments, and started recording and experimenting with various types of music as more of a 'one man band'. Some of my influences were Miles Davis, Led Zeppelin, Pink Floyd, Jimi Hendrix, Autechre, Portishead, Radiohead and Mos Def.
As my artwork evolved from drawing/painting to video art, I used my musical and technical experience to create accompanying sound art, and pursued more as a time-based artist, incorporating performance and writing. To develop this further, I went to London Film Academy (UK) and Prague Film School (Czech Republic) and then 3D Animation & Visual Effects for Film at Vancouver Institute of Media Arts (Canada).
Since 2010, I have worked in visual effects including at Side Effects Software Inc (Toronto), done sound engineering and video work, taught English as a foreign language at private language institutions, and taught music, art, Spanish and algebra at charter and public schools. I also find teaching to be in many ways an art in itself.
I teach media arts at Emily Carr University of Art + Design (Vancouver, Canada), where I completed an MFA and founded TEDxECUAD. I continue to be involved with TED and TEDx while teaching and pursuing personal work and collaborations. My recent work incorporates virtual reality and collaborations across art and physics.
Flickr Updates
Twitter Feed
Quick Access